New York Magazine
"The Stone Coyotes' hefty sound melds AC/DC's charging power chords with a country troubadour's literate observations."
Real Detroit Weekly
"Powerful and gritty, with just a hint of sweetness and sorrow."
Toronto Now
"Likely one of the festival's best discoveries, The Stone Coyotes rocked and shocked the Horseshoe audience Saturday night with their AC/DC meets Patsy Cline sound."
The Nashville Scene
"The Stone Coyotes crank out unpretentious rock that has grime on its fingers and transcendence in its heart."
The L. A. Weekly
"Poised to be the coolest husband-wife-and-son rock and roll trio ever. Those wary of a hype short on substance should rest assured this family has the chops to back it up."
Spin
Elmore Leonard, who died today at 87 after recently suffering a stroke, is best remembered for crime novels such as Get Shorty, but there was a part of him that wanted to be a rock star. The protagonist of Leonard's 1999 book Be Cool, a sequel to Get Shorty, was trying to get into music management. While researching the story, the author hung out with the members of Aerosmith and listened to the likes of Gwen Stefani and Alanis Morissette, according to his publisher. But the band that changed his character's life turned out be a three-piece called the Stone Coyotes who happened to be playing one night at Los Angeles venue the Troubadour.
Leonard, who described the Stone Coyotes as "AC/DC meets Patsy Cline," incorporated lyrics from their actual album Church of the Falling Rain into Be Cool. He even asked the group to write the song "Odessa" for his character Linda Moon, who came from Texas. The band appeared with him on the book's promotional tour, including a stop at New York City music venue Mercury Lounge. When Be Cool first went on sale, it came with a CD that featured the Stone Coyotes' songs.
The Stone Coyotes now live in western Massachusetts. In a Facebook post earlier today, they announced that they'll "fly our flag at half mast" for Leonard. "He was the real thing and above all a straight shooter," they wrote. "May we all rock so well into our golden years." The Stone Coyotes had never played in Texas when Leonard asked them to write "Odessa," but they now visit often. As lead singer and guitarist Barbara Keith recalled to the Springfield, Massachussetts Republican, "We told him, 'Now we're living out your book.'"
Around the time Be Cool came out, Leonard told the New York Times he'd like to be a rock star for roughly 48 hours. "I'd want to do two concerts," he said. "I can't sing, so I'd be [Aerosmith guitarist] Joe Perry. What fascinates me is the crowd reaction."
3rd Coast Music, Austin, TX
Big hit of last month's issue was the para in my column about Barbara Keith, writer and original recorder of Detroit Or Buffalo, which brought me a slew of thanks from people who checked her out on YouTube. Fortuitously, or part of the great scheme of things, depending how you look at it, I forwarded a copy to Keith just as the trio in which she sings and plays electric guitar, backed by her husband Doug Tibbles on drums and stepson John Tibbles on bass, were releasing their eleventh album. Keith's first outing was in 1968, with pop-psychedelic mop tops Kangaroo on MGM. She then cut two folk country albums, for Verve in 1969 and Reprise in 1972, both, rather confusingly, self-titled, but, as I mentioned last month, she returned Reprise's advance, married Tibbles, whom she'd met in the studio, and quit the music business. However, the music business didn't quit her, songs from the 1972 album, now a high dollar collectible with a cult following, were covered by Delaney & Bonnie, Barbra Streisand, Olivia Newton-John, Melanie Safka and others. These are not names you'd free-associate with her current incarnation, of which Elmore Leonard said "Think AC/DC meets Patsy Cline. The beauty of the straightahead rock & roll of The Stone Coyotes (a reference to Navajo mythology?), is the purity of the aesthetic. Keith and the Tibbles have zero interest in attracting label interest—been there, done that. The Tibbles are a great rhythm section, John's bass lines are killer, and as a guitarist, Keith rocks harder than kids a third her age, but what makes the group truly exception is Keith's songwriting. Her mastery of her craft makes most people who set themselves up as songwriters sound like fumbling amateurs.
3rd Coast Music, Austin, TX
Barbara Keith... has one particular talent that I wish were rather more common among people who send me their CDs. Many years ago. When I was working with Fairport Convention, the group cut a parody of The Sailor's Alphabet ("A is for Anchor," etc) which ended "Z is for zollocks, it's wrong but it's rhymey." If I had a dime for every time I've heard a word in a song that was obviously only there because it was rhymey, I could start my own country, and that includes contributions from well known and respected songwriters. When Barbara Keith writes a song, whether during her early 70s folksinger career (Detroit Or Buffalo, The Bramble And The Rose, Free The People) or any of those, some co-written with her husband/drummer Doug Tibbles, on the eleven albums she, Doug and her stepson John Tibbles have made since they reinvented themselves as The Stone Coyotes, you feel, in fact you know, that every single word is there for a reason, to express, with steely precision, exactly what Keith wants to say. There's no fat or self-indulgence in a Barbara Keith song. Plus she can outcrush guitarists half her age.
The Union News
Gene Simmons' proclamation that "rock is dead," which he made in an interview with Esquire, suggests he hasn't heard the latest Stone Coyotes release. The iconic Valley band has delivered another gem in "Rock Another Day"...
The Hampshire Gazette
Barbara Keith started singing and playing her songs in the 1960s at Cafe Wha? in New York City's Greenwich Village (the famous club that helped along such performers as Dylan, Hendrix, The Velvet Underground, Joan Rivers and countless others) and a strong folk music heart still beats within her band The Stone Coyotes — an electrified, armor-plated, guitar-wielding warrior kind of folk music heart.
Open up the new CD, "Rock Another Day," and there the trio stands, tough behind dark sunglasses in a night landscape, looking a little bit like The Terminator. "We'll be back," they seem to say, and since it's been a longer wait than usual (two years between albums instead of one), Stone Coyotes fans are glad it's finally time for their return.
The lineup and its power remain the same: Keith on very electric guitar and vocals, her husband, Doug Tibbles, on blunt drums and stepson John Tibbles on bass. Doug plays like Charlie Watts for the cyborg age, every snare hit a pummeling whomp; sometimes John pedals on one note, à la AC/DC, allowing Keith to achieve the most bang for her power-chord buck.
The 11 songs inhabit an apocalyptic world, starting with battle cries and walls coming down on the lead-off track, "The Fall of Babylon." The steady Stonesy groove of "Peace In the Valley" adds a sinister edge to the sadness in the lyrics: "I don't believe what they say on the radio / "peace in the valley"? / I don't think so."
"Death and I have a nodding acquaintance," Keith sings at the beginning of "A Ghost of a Chance." It's a good example of how finessed her singing has become, with little flits and cracks and a playful attack with the sung/spoken lines.
The title track stomps along like a hard-rock, stadium-ready anthem, but the lyrics aren't partying, they're wrestling with the void: "The stars that burn above me / I call from far away / "Anybody up there love me? / Let me rock another day."
The Recorder
I slip the disc into the car CD player and crank up the volume. The song starts with a simple beating drum, then is joined by a buzzing guitar that is like a train in the distance — getting louder and louder until it builds to a roar. A voice that's soft, yet full of sharp edges, begins to sing.
"Who's that singing? I want to know/Sounded like a thousand years ago/oh yeah oh/It's Sally in her hand me down clothes."
There's a sense of foreboding in the song, punctuated by that chugging guitar riff. I turn it up and the car windows start to shake slightly. Greenfield's first family of rock, The Stone Coyotes, are back.
The song is called "Sally in the Doorway," and it is the title track of the Stone Coyotes new CD. It is the band's 14th release and the group's first since "Rock Another Day" from 2014.
"Sally in The Doorway" is the band's first studio release since they added a new Coyote, guitarist Doug Tibbles Jr., who has now joined the group that includes his father Doug Sr. on drums, brother John on lead guitar, and bass and stepmom Barbara Keith on vocals, guitar and keyboards.
The Stone Coyotes have been working as a trio since forming in the late 1980s, but they all agree that Doug Jr. adds a new dimension to their sound. "A new guitar voice gives the band more depth," said Keith. "And now that John spends most of the year in California — where Doug Jr. lives too — we have two Coyotes playing together in L.A. and two Coyotes holding the fort in Massachusetts. When we all get together, it blends very well."
"Sally in the Doorway" features 14 tracks (14 tunes for the 14th album), and is a mix of full-out rockers with some country flavored ballads that include four cover tunes.
On this disc, the Coyotes have managed to move forward without losing sight of who they are and what they do best — play honest, straight-ahead, no-frills rock music. If you ever find yourself wondering where all the rock bands have gone, look no further than The Stone Coyotes.
On the new CD, the band continues to make the kind of rock music that when played loud, can makes windows rattle. With an extra guitarist in the mix, the sound is fiercer than ever, and this disc is packed with the kind of solos that will have guitar rock fans taking notice.
But unlike other hard rock bands, the Coyotes have another side to their music thanks in part to the gifted songwriter Barbara Keith, who wrote some of these songs with Doug Tibbles. She is a talented lyricist whose songs have been covered by artists like Barbara Streisand, Hank Snow and Lowell George.
Keith writes songs full of memorable lines and characters and is the type of songwriter who obviously chooses every word with care. While she can write songs like "Rhythm Guitar," where she celebrates the joys of rocking out, she can also write beautiful and melodic ballads, as well.
On the CD there are two quieter tracks that stand out: the acoustic "Ballad of the Boonville Bridge" (about 'a boy with the poison kiss' who may be responsible for the death of the woman who loved him) and the disc's closer, "It Moves You Again," where Keith plays keyboards and sings lines like, "Every now and then/A song from long ago/comes on the radio/And it moves you again."
Keith's voice beautifully captures the feelings of loss and longing that echoes in the song. The band also recorded a poignant cover of Bob Dylan's "Most of the Time."
That brings us to the cover songs on this disc. In addition to the Dylan song, the band goes full-throttle and blows the roof off on the AC/DC song, "Up to My Neck in You." They also do justice to the Stones' "One Hit to the Body," and serve up their version of "Burning Down One Side," a rather obscure song co-written by Robert Plant, which he recorded on his 1982 debut solo album, "Pictures at Eleven."
"The four covers came about by request from a film company in California, which will be running an online ad campaign for an upcoming movie," said Keith when asked how the band happened to choose these particular songs. "They invited us and some other artists to pick from a list of songs they had compiled. Exclusive Stone Coyotes versions of these four covers — and two originals — will be part of the campaign. We enjoyed the project so much we decided to add these to our album."
"Sally in the Doorway" is an excellent addition to the Coyotes extensive, impressive catalog. You can purchase the new CD at the show, online at the band's website, or at online outlets like ITunes
The Recorder
The band The Stone Coyotes is howling again having just released its 13th album, "Rock Another Day," this past Tuesday. This disc, which we told you about last week, is the follow up to 2012's "A Wild Bird Flying." Two years between albums is unheard of for this trio of vocalist and guitarist Barbara Keith, her husband Doug Tibbles on drums and stepson John Tibbles on bass and lead guitar. They have consistently been cranking out an album a year since releasing "Church of the Falling Rain" in 1998.
The Stone Coyotes will celebrate the release of "Rock Another Day" with a show at the Iron Horse at 20 Center St. in Northampton on Saturday, Sept. 13, at 7 p.m.
"It's been like clockwork for us and maybe it was good to have just that little extra breather," said Keith. "We had a chance to really dig in and get these songs just the way we wanted."
The Coyotes, which has achieved national recognition over the years, has always done things the way it wants. Band members record all their material in their home studio in Greenfield and release it on their label, Red Cat Records. Doug Tibbles is responsible for the album artwork and the concert posters and, while the group never works with an outside producer, it does enlist the mixing and mastering talents of Mark Alan Miller of Sonelab Studios in Easthampton. Miller has worked with the band since the beginning and Keith said the band considers him an essential member of the team.
Bassist John Tibbles lives in California, so you would think that would have a huge impact on the band's recording process. Keith said, however, that it doesn't thanks to technology.
"Being that we are in the digital age of recording, he can put his parts on at anytime, but it does prevent us from having jam sessions. But at this point, we have played together so long that when he comes in, it's like he never left," Keith said.
John Tibbles was slated to come home earlier this week to start rehearsals for the Iron Horse show, the band's first time playing that venue since 2010. Locally, The Coyotes typically play at smaller venues like The Rendezvous in Turners Falls or the Parlor Room in Northampton. The band is looking forward to rocking a bigger room and unveiling new songs. The show is also going to be recorded for a possible live CD.
"We barely finished the album a couple of weeks ago and it's all been under wraps," Keith said.
The 11 songs on "Rock Another Day" feature thunderous rhythms, lots of guitar shredding and lyrics that will make you stop and listen. (Unlike other singers in a guitar-heavy band, Keith doesn't feel the need to scream to compete with her fierce rhythm section. She actually sings the lyrics.) The Coyotes play the kind of loud, straight-ahead rock that we don't hear a lot of in these days of auto-tune and sampled beats. It also mixes in some quieter tunes amidst the rock thunder.
When asked if there is a particular new song that she is anxious to play live, Keith hesitated a bit before answering. "I have different favorites all the time and it is funny how you veer toward the new stuff, but you don't want to forget the old chestnuts," she said
The anthem-like title track is destined to become a staple of the band's live shows. "The stars that burn above me/I call from far away/Anybody up there love me/ Let me rock another day," sings Keith against a strong guitar riff and a beat that will draw listeners to the dance floor.
Keith established herself as songwriter back in the 1960s and, over the years, her songs have been covered by a host of heavy hitters, including Barbara Streisand and Tanya Tucker.
Many of her lyrics are like little short stories as she creates characters and settings that draw the listener in. "Mary, Where Were You?" opens with crunching guitar then goes on to tell the story of "a dead man on the village green." The infectious "Peace in the Valley" is a menacing song about "trouble climbing in your window."
Keith steps away from writing in the third person and takes to the piano for the country-influenced "It Changed Me," a song that reflects on time passed. "The things that used to matter/They don't matter anymore/I shake my head and wonder/What I wasted all that time for/The glory of an hour/When I threw whole years away." "... that one is a little more personal and that is rare," Keith said about the song, which she adds was a long time in the making. "Sometimes, a song will come out all at once like it's falling from the sky. Then, there are the ones you'll just get a line or two and it can take years for it to start coalescing into a real song. That was one of those."
The band doesn't include any covers on this disc, but it does rework one of its own songs: "A Rude Awakening," which was the title track off its 2009 release.
"We booked some time to record at Sonelab and we decided to go back and find a song we could kick up a notch," Keith explained. "We thought 'A Rude Awakening' would be a fun song to do with a little bit more harder rock sound and with a bigger drum sound. And I got to play through a Marshall!"
Will the group wait another two years between albums?
"I don't know. Now we are revved up and have all these ideas," said Keith with a laugh. She stressed that the band isn't slowing down when it comes to writing and recording, but it is scaling back on long-distance touring. It has fans all over the country, with its biggest fan base being in Texas. The band has made yearly trips to the Lone Star State, but now prefers to stay closer to home and find other ways to reach its fans.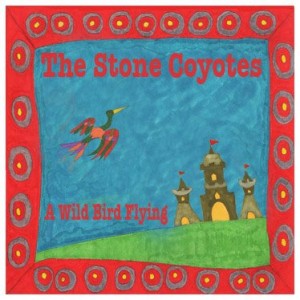 Aside from having an interesting personal history, The Stone Coyotes are a whip smart rock and roll trio with carefully crafted, hard-driving songs. The trio has a faint trace of roots rock in their sound. Enough to keep their songs engaging, not so much it feels like a novelty act. Their time period is hard to pigeonhole. All 12 tracks on A Wild Bird Flying should go over well with music fans who like everything from The Band to Tom Petty and the Heartbreakers to The White Stripes.
Title track "A Wild Bird Flying" kicks things off with Barbara Keith's slightly raspy voice and assertive guitar work. She puts a swagger in her song with charging sweeps of electric guitar. Her rhythm section is also her family. Husband Doug Tibbles drums and her son John Tibbles plays bass and lead guitars. The drumming is loaded with an adept rhythmic sense and the bass keeps a steady menacing drone going on, perfectly serving this song about a rebellious spirit. John Tibbles presses out an edgy guitar phrase that percolates with action.
Second track "Powder Keg" charges right in with feisty guitar chords. An understated rhythm section pumps up the guitar and vocals while staying out of their way. Keith has a personable voice that makes you feel like she's telling you her tales over a small table. She paints a detailed description of a young man with her lyrical talents while delivering with a self-restrained cool. Hearing her sing over a bass drum beat shows how she can pull the band in any direction she chooses. Her son's guitar break here is on fire and closes out the song with balls of energy.
The trio slows things down a bit on "Your Fall From Grace." Keith's tasteful touches of guitar notes make them resonate with forlorn emotion. Her gentle but direct vocal approach makes you take notice of this story song. Building momentum with climbing guitar chords and rising vocal dynamics, Keith makes you feel this story is taking you somewhere with purpose. Guitar and bass play off of each other beautifully at each tempo this tune plays out on, and the chunky rhythmic click is irresistible to the listener.
Keith plays a honky tonk flavored piano on "Sing Me A Hymn," a jaunty, mid-tempo rocker that showcases how easily she can bounce her vocal up and down over the rhythms. An easy going guitar line oozes forward with a gently pressed edge, making its presence felt without overwhelming or competing with the lilting movements of this piece. Keith harmonizes with herself beautifully, singing her catchy, hooky chorus with a fulsome, flowing sweetness.
The trio rock things up on "Close To The Bone." Keith balances her smooth vocal with her crackling guitar work, creating a tone of danger and menace. Creating tones and feelings is the secret to this trio's success, their ability to create a musical setting to match the color and tone of Keith's lyrically descriptive action. You feel like you're in the hands of consummate story telling songsmiths. Keith's feisty coos and a tortured lead guitar ride out inspire the listener's imagination with the possibilities of what is going on in the words.
"Red Letter Day" features Keith's grueling slide guitar work, emitting a greasy, slippery vintage melody that oozes flavor. Fetching vocally as well, Keith purrs this one with class. The trio hoof it rhythmically, making their song gallop along with an head-bopping catchiness. John Tibbles' lead guitar plays its honky tonk toned juiciness alongside that impeccable slide. The combined picking gives this an undeniable coolness.
"A Dangerous Game" finds the trio trotting along at a take-your-time pace, unfolding more vocal finesse from Keith, crackling, tasty guitar work from John Tibbles and a notably palpable rhythm section. Keith holds her vocal notes with a strength that makes her voice climb upward with a muscular authority.
The trio charge right into "Big Bad Wolf" with an impeccably solid rhythm guitar phrase and authoritative groove. You can picture the trouble maker this song is about doing his bad ass routine in a town that he's intimidated. John Tibbles' rockabilly influenced guitar phrase carries through with oldies appeal. He keeps the sound pared down, making it feel like a bombastic event without ever having to play bombastically.
"Going Down For The Third Time" allows the trio to slowly unfold their multiple talents. Keith penetrates the listener's consciousness with a whistling, sustained vocal note. John Tibbles peels off his lead guitar notes with a sublime hint of foreboding. The embraceable rhythm section fills this one with a lot of nifty twists and turns to keep the listener bobbing his head or tapping his toes. You just can't help yourself.
The Stone Coyotes close out their album with the aggressively played storyline of "You Got Rolled." This one rocks with a steady forward momentum that pounds a message home with hefty bass lines and kick ass drum work. Keith sings this one with a take no prisoners drive, singing out her lines like she's giving a hard lesson in life. You wouldn't want to mess with this trio after you hear them drive this one home.
The Stone Coyotes have a solid grounding in American roots rock idioms, and they craft their sound into very likable songs that they push forward with steely resolve. Fans of oldies, rockabilly, country-rock, honky tonk, and classic rock would be doing themselves a big favor by immediately purchasing their A Wild Bird Flying album.
The Sunday Republican/MassLive
...It's lean, raw and a little ragged around the edges, not unlike what a trimmed down version of the Rolling Stones might sound like if the British band had a powerhouse woman stage center handling its lead vocals and guitar.
That woman is singer/songwriter Barbara Keith a veteran figure in the music industry, whose songs have been covered by the likes of Lowell George, Barbra Streisand, Patty Loveless and most recently Amanda Shires who re-worked "Detroit or Buffalo" on her latest album.
Keith fronts the Greenfield-Mass.-based family band the Stone Coyotes, which also includes her husband Doug Tibbles on drums and stepson John Tibbles on bass.
"I Couldn't Find You," is their 11th album, yet another uncompromising, unvarnished collection of straight-ahead rock, short on frills but packing plenty of punch...
The album gets off to a slammin' start with the hard-chargin', fast 'n' furious "I Can Hear You," which rides on Keith's slide guitar and Tibbles throttling drums.
Seizing the moment, the trio rips into "My Horses Were Gone," with Keith singing a potent tale of a woman who lives off the land and her unwavering perseverance:

"I've seen creeks dry up/I've had crops fail/I've seen floodwaters rise/And I've been whipped by hail/I've had kinfolk die/Seen my mother wear black/But what's been taken now/I'm taking back."
There are plenty of style shifts along the way, from the alcohol-drenched, ought-to-be-a-country-hit "Memory Lane," through the bass-riding "Throwin' Off Sparks," and the guitar-busting midtempo gem "The Bluebirds Don't Sing Here anymore," during which Keith matches the toughness of the instrumentation with a lighter vocal that stretches into her upper register. And if you're looking for a flat-out roadhouse rocker look no further than "Blood-suckin' Son of a Gun," a crashing Jekyll and Hyde saga of infatuation and obsession that just happens to tap into the trendiness of vampire tales.
All in all, a thoroughly likeable album, delivered with passion from a band that's more than lived up to the adage about the family that plays together.
Houston Music Review
The little band out of Massachusetts known as the Stone Coyotes howled their way back to their anointed stomping grounds of Houston, Texas and sounded better than ever.
The family trio of main singer/ songwriter and guitar shredder Barbara Keith, vet skin man and hubbie Doug Tibbles, and reliable bottom bass theatrical stepson John Tibbles invaded the stoic confines of the Mucky Duck and rattled it a bit. …
...The packed house was treated to a vast array of their catalog of rockers. "Shake" got the hips movin' and the early appearance of stellar chestnut "The First Lady of Rock" got the attention of the loyal Coyotes fans big time. The band was taking requests all night and it was very cool to see that. "Odessa" always brings goose bumps along with "Detroit or Buffalo".
The new tunes played quite well with some standout subtle "Coyote" trademark kick ass guitar work on "My Horses Were Gone", Texas tough "Blood-suckin' Son of a Gun", love song "Memory Lane", and my fave "The Bluebirds Don't Sing Here Anymore" with signature Tibbles drum mashin'.
This band is a no frills in-your-face ROCK band and they mean it....
Uncompromising, unflappable and unforgettable.
Those three words define the veteran three-piece family band The Stone Coyotes, whose latest album "My Turn" exemplifies their career.

With a lean and muscular sound, the group is powered by singer/songwriter and guitarist Barbara Keith, and also features her husband Doug Tibbles on drums and stepson John Tibbles on bass.
The Greenfield-based band's attitude is perfectly captured on the killer title track, with lines like the following:
"Then the man from the label walked in/ Said 'We'll sweeten up the tracks with some violins'/ We said 'No, no, Mister, let's cut to the chase/ What you hear is what you get – guitar, drums and bass.'"
Keith in particular is a long-time figure in the music industry, whose songs have been covered by the likes of Barbra Streisand, Lowell George and Patty Loveless, to name but a few. But on tracks like "My Turn," and other impressive fare such as the biblical "Threw a Rock in the River," and the evocative ode to the West Coast, "Almost Sounds Like California," The Stone Coyotes sound like they're only getting better and better with time.
Tracks to download: "My Turn" "Threw a Rock in the River."To read a review of the band's performance earlier this summer at Mountain Park in Holyoke with Willie Nelson click here.
The Brattleboro Reformer
There are a two pretty straightforward ways to discover what the Stone Coyotes are all about. The best and most visceral way is to see them live, like when they shake, rattle and roll through their CD release party at the Iron Horse this Saturday night.

But if you can't find a babysitter or the 10 p.m. showtime is way past your bedtime, you could just check out "My Turn," the booming title track that launches their just-released 10th CD.

The song sonically and lyrically represents the essence of the Greenfield-based trio. Rapid fire riffs courtesy of Barbara Keith, the rock steady drumming by her hubby, Doug Tibbles, backed by stepson John Tibbles' thundering basslines supporting Keith's edgy vocals, singing: "Go to the club, setting up our sound/the owner rolled his eyes, said, 'Can't you turn it down?/It's a mellow crowd -- Don't know how much they can stand.'/We said, 'For cryin' out loud, we're a rock & roll band."

Of course, the Stone Coyotes are no ordinary rock band. Connoisseurs of songwriting and rock intelligentsia have consistently been drawn to their work. Keith is an eclectic and incisive writer whose compositions have been covered by such diverse artists as Tanya Tucker, Barbra Streisand, The Dillards, Melanie, Hank Snow, Lowell George and Patty Loveless.

Early on, author Elmore Leonard used the band as the inspiration for "Be Cool," the sequel to the ultra-popular "Get Shorty."

Recently the band's music has been heard in seven episodes of "Dog the Bounty Hunter," while Elton John's co-writer Bernie Taupin touted them on his radio show, introducing their "Ghost of Vicksburg" by saying "God, I love this song. And why didn't I write it?" New York Times bestselling author Rachel Caine has made a video for her new book, "Total Eclipse," using their "The Grey Robe of the Rain" as the soundtrack.

Just last week the Stone Coyotes -- who are hugely popular in Texas -- landed a prestigious gig opening for Willie Nelson. Meanwhile their mellow and melodic track, "Ship of Fools," from "My Turn"is getting major airplay on WRSI.

Perhaps these dogs are having their day. I asked Keith to explain the new record's title track. "For cryin' out loud, we're a rock and roll band!" she replied. "Yes, we have been shunned here and there over the years -- asked to be quiet, to be less crudely 'spare,' to have more 'production' -- so this is satisfying to sing and play. Plus it's just fun to let go in a real rock song with a Malcolm Young-inspired riff and thudding rhythm section. And anyone, not just a rock band, can relate to 'Now it's my turn' -- the fed up, OK-move-out-of-the-way mood we all share."

As for having "Ship of Fools" on heavy rotation, Keith was more than pleased. "Great to have WRSI sailing with us on this one." She went on to explain how the ship was built.

"That song was one of those where the lyrics were the last piece of the puzzle. We had the instrumental track almost all done when the 'ship of fools' phrase floated by, as it's been doing since the 15th century, inspiring everyone from German theologians to Katherine Anne Porter ... so why not The Stone Coyotes? The verse-writing was influenced in part by studying Johnny Mercer, who used a lot of internal rhyme schemes."

After 10 CDs, countless gigs and a pretty unique story as a fiercely independent/family band, the Stone Coyotes clearly still have a fire to burn and are proud of their body of work to date.

"We are unique, aren't we? We are proud that we are leaving a body of work -- in the same way someone could say after a lifetime of hard labors, 'I grew a decent blueberry.' Whether a few people taste our blueberries or thousands, it matters not. Well, except for when we have to pay bills."
The Republican/Union News
The Stone Coyotes have done it again. They've turned in another uncompromising rock gem with "My Turn," and celebrate the release of the CD with a show at the Iron Horse on Saturday night at 10 p.m. The band rocks hard, and with a purpose but lead singer / writer Barbara Keith is also an incomparable balladeer. If you know their history (and if you don't, you'd do well to search) a song like "Almost Sounds Like California" will break your heart. Listen to a clip on stonecoyotes.com.
Folkwax

Five stars out of five? Yes! And not just because the Stone Coyotes are my favorite rock 'n roll band….

One day, spring 2006 (or was it 2007?), Deborah and I washed ashore at Crystal Beach, a ferry away from Galveston, TX, to stumble onto a great little festival organized by Hayes Carll: Hayesapallooza! The absolute top of the bill was a band that knocked me off my sox. Fronted by a fragile woman, armed with a voice to cut glass and the energy to blow The Ramones to smithereens, backed by her son on bass and her husband on drums. A power-trio if I ever saw one: The Stone Coyotes!

Somebody called 'm 'Tanya Tucker meets AC/DC'. Nice but slightly inaccurate since Barbara Keith has a lot more balls than that country singer. She's a poet, writes beautiful lyrics, penned Delaney & Bonnie's "Free The People" (1970), while many others covered her songs, including Barbra Streisand, Patty Loveless, Lowell George, Melanie, and….. Tanya Tucker! Sometimes La Keith is as poignant and convincing as Dylan in the mid-60's: "There's a dog and he won't stop howling in a way he never howled before - I asked him 'What's the problem?', he said 'Go home and barricade the door' - There's a shadow on the front lawn, there's a crack in the wall - Where's a soothsayer when you need one? Might mean everything or nothing at all. Oh, can you see? Can you read between the lines? Give me a kiss for good luck, after all, these are desperate times - Here lies a poet unnoticed and unsung, in a corner of the graveyard, words left burning on the tongue". You may complain I'm throwing in too many quotes, but I also want to share "The Valley Of Regret": "To this day they offer consolation, 'You carry a torch, we're told', in idle conversation, say, 'Love like that scorches the soul' - Well, just for the record, I knew it wouldn't last, we might as well have been on the Titanic into the frigid waters cast - Now it's always raining here in the valley of regret, and they all say I'll get over you: but I haven't yet".

And then there's the Wilbrinks' favorite Civil War song. I keep forgetting to send it to Robert Hicks, author of the New York Times best-seller "Widow Of The South", who needs to listen to it before any decisions are made about the soundtrack for the film-version of his book: "Across the amber waves of grain we heard the cannons roar, the caissons rolling and the cry of civil war - I've been sent to tell you, to find some common ground - I'm the ghost of Vicksburg and I shot my brother down… So we both enlisted, opposite sides: one to march with Sherman, one for Pemberton to ride. We donned the uniforms that soon were torn and frayed and pledged allegiance to the blue and to the grey - On Chickasaw that morning, the light was dim, but by the slope of his shoulder I knew that it was him - He raised up his rifle and it chilled me to the bone for his shot went wide and mine, dear God, struck home".

Every time I see the Stone Coyotes, the Ramones come to mind. That's how much energy the Tibbles family pours in its performance. And every time I shove a CD of theirs in our car stereo, Joan Jett comes to mind. There's so many songs of Barbara's out there that would be perfect for my little sister Joanie! And the opening-track of the new album, "My Turn", oh, my god, that's close to another "I Love Rock 'n Roll": "Got to the club, setting up our sound. The owner rolls his eyes, says 'Can you keep it down? It is a mellow crowd – don't know how much they can stand' – We said 'For crying out loud: we're a rock 'n roll band!'" The guitars emulate the Rolling Stones in "Street-fighting Man" mode. Irresistible boogie rhythm. "Got music to play, got fire to burn, now it's My Turn!" I immediately sent an mp3 of "My Turn" to Meryl Laguna, who's been part of the fire behind Joanie's career. She's gonna love the lyrics: "Then the man from the label walked in, said 'We'll sweeten up the tracks with some violins' – We said 'No, no, mister, let's cut to the chase, what you hear is what you get,' Guitars, drums and bass!"

I still remember getting a promo copy in a previous life, early '72, sent to my little house at the corner of Wildemanstreet and an Alkmaar canal, from Reprise Records in Burbank. Doug Tibbles produced that self-titled album of Barbara Keith that opened with an interesting version of "All Along The Watchtower". Although bleak compared to stable-mates Savage Grace's approach, it's a logical first link in the chain from the 60's folk singer from Greenwich Village to today's rock 'n roll mama. Only 15 minutes ago I decided to buy the MP3's of that album online through Amazon. And already I'm enjoying the highlights again: "Free The People", that became a hit for Delaney & Bonnie; a super-intense "Rolling Water"; "The Bramble And The Rose"; and "Detroit To Buffalo", that came back on my path a couple of times through Melanie. Doug and Barbara eventually got married and fed up with the industry: Barbara tore up her contract with the Burbank major, while Doug continued his parallel career as writer for TV shows like "Bewitched", "Andy Griffith" and "The Munsters".

Fast forward to June 2010. Barbara plays guitar, rocks the joint and sings her guts out. Husband Doug assaults the drums and underpins the thudding and thumping of the Stone Coyotes together with son John, who's been torturing the bass ever since his eleventh birthday. Actually, on stage John plays an impressive double-neck with Siamese bass and guitar twins. His leads on the albums are very much Keith Richard/Ron Wood style, that subterranean string-sound from deep within the guitar's throat.

In the meantime Deborah and I have seriously worn out our Stone Coyote CDs. I thought we had 'm all, but it's a rude awakening to see we missed (last year's?) "A Rude Awakening". No time for regret: we just got "My Turn", a great rock 'n rolling album that will be the soundtrack to all our trips this summer. With Deborah, hallelujahing about 2 months off from school, and Barbara belting out a cool cover of Rihanna's "Disturbia" and nine great new tunes, we will enjoy our long rides through the American South even more! 'We all have our souvenirs, something held apart – a little treasure tucked away in the corner of the heart - a flower pressed in paper, a letter in a drawer – mine's a seashell from Laguna: I can hear the Pacific Ocean roar…'

My darling wife and I don't claim exclusivity for staking out the Stone Coyotes as an exclusive find on our musical expeditions. Hayes Carll's wife beat us to it. The charming Pigeon O'Brien, who we actually befriended that weekend at Crystal Beach, was a Believer way before. And when hard-boiled thriller-author Elmore Leonard ("Get Shorty", "Jackie Brown") walked in the Troubadour in Los Angeles, looking for inspiration, he discovered The Stone Coyotes before all of us. The Coyotes became the model for his hero's Chili Palmer's adventure "Be Cool" and Leonard included the lyrics of five of Barbara's story-songs in that book and did dedicate it to the band. And subsequently Elmore Leonard and the band traveled around the nation with a Words and Music Tour.

Now it's the time for you guys to hear the Stone Coyotes howl!

The Recorder
Greenfield's First Family of Rock, The Stone Coyotes, are at it again having just released "VIII," the latest addition to their already impressive catalog. The band just returned from a five-week tour of Texas, where, thanks to strong radio support, they are viewed as major stars. Their fans from the Lone Star State loved the new album and the band are now ready to unveil it to their local audience when they hold a CD release show at the Iron Horse Music Hall in Northampton on Saturday night, May 17, at 10 p.m.

The Coyotes, who are comprised of singer/songwriter/guitarist Barbara Keith, her husband drummer, Doug Tibbles, and step-son bassist, John Tibbles, have been playing together since the late '70s (the band made its local debut at the Greenfield Community College cafeteria. But, the power trio did not release its first album until 1997. The band have always maintained a fierce do-it-yourself ethic and that remains firm on "VIII." The band recorded the album in their studio in Greenfield and, as with all their other CDs, it is released on their own Red Cat Records label.

Early on in the band's career a Toronto-based writer described the band as "AC/DC meets Patsy Cline" and it's a description that could equally describe the sound on "VIII."
While the core of the Coyotes sound is basic rock n' roll – Doug's forceful backbeat and John's intricate bass lines set against Barbara's buzz saw guitar and poignant vocals – their influences are far flung and varied.

While fans will get down on the dance floor to tunes like "If I Knew How to Dance" and "Brand New Car," this disc also features some of the most beautiful ballads of the band's career, particularly "The Lights of Home" and a cover of Merle Haggard's "Kern River." The Stone Coyotes are a band that just gets better with time: the playing is tighter and the arrangements are seamless. Keith's songwriting is rich and full of engaging stories and the 12 tracks on "VIII" will have you singing along and playing the air drums. It is the perfect disc to kick start your summer.

I recently caught up with the First Lady of Rock, Barbara Keith, and fired off a few questions about the new album and the CD release show.

SH: Welcome home. How was Texas and how did your fans down there respond to the new album, "VIII?"

BK: Texas was really great – packed venues made the horrifyingly expensive drive (4,000 miles roundtrip in two cars with these gas prices!) worth it. And as to how they responded to "VIII", well, we ran out of it in about two shows – so that's a good problem to have. John's girlfriend shipped more boxes down and we made it through.

SH: Do you expect to tour Texas again this year?

BK: Maybe in the fall – especially if we get a live DVD out of this Iron Horse show coming up.

SH: "VIII" is your eighth release in ten years. Does this seem like a milestone for the band?

BK: In some ways it's a blur and we don't think too sequentially ordinarily. But when we realized this would be our eighth album, we thought we would commemorate the occasion – and yes milestone – by calling it "VIII". Roman numerals are a little tricky in this age of search engines, but it seems to be working okay. People are finding it one way or another. It's available on our site, stonecoyotes.com, and also on CDBaby, Amazon, and others. Increasingly for us, downloads are a great way for people to find us. All of our albums are on Itunes and other music sites so that aspect of the market is growing by the week.

SH: You are certainly one of the most prolific bands on the local scene as you have been steadily releasing an album a year throughout your career. However there was more than a year between the release of "Dreams of Glory" and "VIII." Why was that?

BK: We almost put the new album out last fall, but wanted to put a bit more time into some of the songs and the mixing and engineering of the album sound. So we decided not to go to Texas as we usually do in the fall. (Fall and spring are the big festival seasons there). That allowed us to spend the winter making it spiffy.

SH: How do you feel that your sound has changed over the years?

BK: Sometimes I'm surprised when I hear one of our old albums – in both ways. Surprised at how different they were and surprised that we were doing things then that we do now. But we pick up ideas from the passing trends and incorporate what we like into our music, so you'll hear the new technology creep into the sounds. The plant may have new blossoms but the roots in the ground are still the same.

SH: I know XM Radio really got behind "Dreams of Glory." Have they started to play anything off "VIII" yet?

BK: Yes they have. They are so supportive. For the last few weeks on average five times a day, both XCountry and Deep Tracks have been playing almost everything on the album – so the long winter in the studio was worth it. Deep Tracks, which as you know is all world-famous artists except us, even talked up our festival in Texas ( the Stingaree on the Bolivar Peninsula, artists like Hayes Carll, Eliza Gilkyson, and Ray Wylie Hubbard.

SH: Barbara, as always your lyrics go beyond the ordinary and are really interesting and literary. In listening to "VIII" there are some dark themes that run through this disc, be it the characters struggling to overcome tough times ("The Grey Robe of the Rain," "Tomorrow is Another Day," "Land of the Living") to warding off the grim reaper ("Not Right Now") to a tale of murder ( "Trouble Down in Texas"). Would you care to comment on this?

BK: Partly it is the traditions I come from – early American murder ballads like "Tom Dooley" and "Long Black Veil," Emily Dickinson, Arthur Conan Doyle, Ngaio Marsh… And urgent themes with harrowing situations seem to suit our band's stripped down style. We really FEEL the plots as we play – no matter how many times we've done the songs. Doug's comedy sense helps alleviate my Gothic tendencies. He came up with "Trouble Down in Texas," which, even though it's murder, is jokier.

SH: How did you happen to choose to cover Merle Haggard's "Kern River?"

BK: We heard him sing it live years ago on a country talk show and loved it. It is very well written. We, of course, molded it to our sound, trying to leave the original beauty of the lyric intact.

SH: Many of your listeners probably don't realize what a totally do-it-yourself band you are, in that when it comes to making a CD you do it all from the recording to the mixing to the artwork. Most bands work with outside producers. Why don't the Stone Coyotes?

BK: We're too headstrong! We hear it and see it a certain way and don't want it messed with. It took us years to get the sound we heard in our heads – and with instruction by our mentor Mark Alan Miller (of Slaughterhouse Studio), have honed our recording and mixing style. Doug has been interested in graphic art for years and since his posters and album covers have become popular, he has gone further into that field, branching out into collage and photography.

SH: Are you looking forward to playing the Iron Horse again? You are going to film the show?

BK: Yes, we are really looking forward to the Horse show. There are already some videos up on Youtube from past shows there and we are going to film this one and record it as well with mobile equipment for a possible live DVD. So everybody come and be part of it. We will have "VIII" - plenty of 'em this time – and new T-shirts too.
MassLive/The Republican
Stone Coyotes still howling in WMass Thursday, May 22, 2008 The missive comes in an ordinary manila envelope with a short handwritten note. "How are you?" it reads. "We're still loud." The manila envelope is the only thing ordinary about the package and the resilient rock trio that signed the note. The Stone Coyotes celebrated the release of their latest CD "VIII" with a show at the Iron Horse Music Hall in Northampton last weekend. They continue to split time between the Pioneer Valley music scene where they cut their teeth and various Texas haunts where they have found another wildly appreciative audience. The band spent April touring Houston, San Antonio and La Grange. The new release "VIII" is vintage Coyote fare with thunderous rhythms and metal guitar serving as the soundtrack to songwriter and singer Barbara Keith's vivid tales of love, loss and larceny. Along with Keith's stimulating originals ("Grey Robe of the Rain" and "The Lights of Home" may be among her best) the band offers a beautiful rendition of Merle Haggard's "Kern River." The Stone Coyotes continue to thrive on the concert circuit and have found a home on XM satellite radio. "It has really been a good niche for us," said drummer Doug Tibbles. "The radio play keeps us out there. It isn't making us rich but the songs are being heard." The Stone Coyotes have been a Top 10 contender on the satellite's Xcountry channel and have recently been added to the Deep Tracks (Channel 40) and the America (Channel 10) channels. The CD is available starting this week through the band's Web site at www.stonecoyotes.com, and is also available through iTunes, CDBaby, Napster and Rhapsody.
The Hampshire Gazette
[Originally published in the Daily Hampshire Gazettete on Friday, Dec. 15, 2006] It's a chilly night at the end of September in downtown Northampton. The sky is clear, a handful of stars barely visible beyond the glare of street lights. Outside the Iron Horse a line is forming, men and women running the gamut from college students comparing student ID pictures to a pair of older couples discussing the joy of travel after the kids have grown up. A dog barks on the other side of the nearby courthouse and someone says, "It's them." "Them" is the Stone Coyotes, a Greenfield-based family rock trio. And indeed, a white Ford Windstar LX pulls up to the sidewalk, literally at the front door, and Barbara Keith and Doug Tibbles, two-thirds of the band, get out. Their appearance quiets the crowd, exactly the way a rock'n'roll star's might. But there is no sense of awe. Many of the fans know these two by name. One even makes an impromptu song request -- "Plain American Girl." Keith is gracious, making note of the request, even though her mind is on the tasks at hand. There's equipment to schlep inside, a sound check to run through. A few moments after Keith and Tibbles show up, the third band member arrives. It's their son, bass and sometimes guitar player John Tibbles, who ends up lugging the group's heaviest equipment into the club. Keith, wearing a white leather jacket, supervises. The Stone Coyotes, mainstays in the Valley since the mid-1990s, remain fiercely dedicated to the local music scene while enjoying a national reputation. They routinely frequent area clubs -- the Iron Horse, the Brass Cat in Easthampton, the Route 63 Roadhouse in Millers Falls -- but they also rub shoulders with some of the biggest names in the entertainment business. Consider: Keith's songs have been covered by the likes of Barbra Streisand, Tanya Tucker and Hank Snow. Her ballad "The Bramble and the Rose" is a folk staple featured in Sing Out!'s renowned "Rise Up Singing" songbook, which has over 1 million copies in print. Best-selling crime novelist Elmore Leonard discovered the Stone Coyotes at the Troubadour in Los Angeles and modeled the band Odessa after them in his novel "Be Cool," even using Keith's lyrics in the book. He joined the band for a words and music tour that included shows in L.A. and Boston. The band's CD "Dreams of Glory," released earlier this fall, was in the top 10 on XM Satellite Radio's Xcountry channel. "Fire It Up," their 2005 CD release, was 19th on XM's top 50 albums that year. Yet the Stone Coyotes remain a bar band that has embraced a do-it-yourself mentality. They record their CDs in their studio in Greenfield. Doug Tibbles does the cover artwork. They don't have roadies or publicists or hair stylists. Every week they single-handedly mail orders for their seven CDs to fans across the country. At the Iron Horse on this night the Stone Coyotes will shine the way they always do. They've got enviable musical chops and eminently danceable rock songs. They've got poetry and pump-your-fist-in-the-air anthems. They love their fans (Keith won't forget to play "Plain American Girl" tonight) and the sentiment is clearly mutual. They open the show with "Dreams of Glory" off the newest CD. It's a hard-rocking tune that draws several dancers to the floor. When the last chord is echoing in everyone's ears -- and the dancers are waiting impatiently for the next song -- Keith gives a small bow and an elegant wave. "It's so nice to do our CD release here," she says. "We go way back with the Iron Horse and the Pioneer Valley." Then, with a quick glance at husband Doug, Keith leads the band into "All Dressed Up." By the time she starts singing the first verse, the dance floor has filled by a factor of 10. The Stone Coyotes are at the top of their game tonight, and the energy is electric. THE STONE COYOTES is a family band, though its image is probably not what the conservative promoters of "family values" have in mind. Mother, father and son tend to wear mostly black, with signature dark sunglasses. They often look like they've just stumbled out of -- or are about to amble into -- a biker bar in the middle of nowhere. A reviewer writing in Toronto Now called their sound AC/DC meets Patsy Cline. It's a good start to understanding what makes this band tick, but like many other efforts to pigeonhole them, it falls a tad short. It's true, for example, that Keith's guitar playing owes a lot to brothers Angus and Malcolm Young of AC/DC -- bar chords and straight-on rhythms rooted in the blues. It's also true that Keith's voice has a twang reminiscent of the rich country timbre of old country singers like Cline. But where AC/DC never strays from hard-rock anthems, the Stone Coyotes can run the gamut from a fuzz-drenched cover of Black Sabbath's "Paranoid" to acoustic ballads without breaking a sweat. And Cline's polish doesn't match up with the edginess of Keith's voice. That blend of raw country and punk-tinged rock is front and center in the band's cover of Dolly Parton's about-to-be-spurned-lover classic "Jolene." Parton pleaded with the lovelier Jolene not to take her man, making the song a haunting if melodic supplication. You knew she'd survive being jilted, but there was still something a little too passive about it. The Stone Coyotes start "Jolene" with Keith strumming an acoustic guitar while crooning the opening chorus. But then the group segues without warning into distorted power chords and a scorching solo courtesy of John Tibbles. Keith's voice is almost taunting. In her hands the song becomes a challenge -- not please don't take him, but I dare you to take him. The Stone Coyotes aren't given to histrionics. Barbara Keith's right hand is often a blur as she strums her guitar, and she might sway a bit when playing solos, but mostly she stands stock still to the left and a step up from Doug Tibbles' drum kit. To her right, John Tibbles straddles the stage, sometimes lifting his guitar high overhead. It's the sole gesture that's remotely rock-like, although given the weight of his dual bass/six-string, he might also be giving his back muscles a break. Between songs, Barbara and John will often meet in the middle of the stage, John ducking his head so his mother can talk to him. These little asides always end in grins, as if Barbara is reminding her son to do his homework. Behind them, Doug looks like a raptor in black shades, tense with energy that can only be released by pounding a drum. At 66, he's the senior Stone Coyote, though the obvious relish he brings to playing music belies his age. Not halfway through the Iron Horse show, he plays so hard he actually breaks his snare. "It's OK," Barbara tells the audience. "That was our sacrificial snare. There's more where that came from." While Doug fetches a backup from the Windstar, Barbara and John do a percussionless version of "Plain American Girl," off the band's 2002 release "Ride Away From the World." BARBARA KEITH'S VOICE AND GUITAR-playing take up a lot of space, but she's a slight woman with a polite but intense stare that sometimes feels like she's boring holes in your skull. Over a lunch interview at the China Gourmet in Greenfield a few days before the Iron Horse show, Doug Tibbles has to remind her several times to eat. "I try to get myself out of the way," she says when asked how much of her personal life has worked its way into her writing. "To me, the best songs are timeless, like 'Red River Valley.' It doesn't sound like anyone wrote them." Keith eschews a confessional approach to writing -- song as therapy -- in favor of a more novelistic approach -- song as story. While the band's roots are pure rock'n'roll -- AC/DC and the Ramones, say -- lyrically, they're anchored in the same folk tradition that spawned Bob Dylan. Ghosts wander empty streets, musing on old crimes or recalling fatal shipwrecks. Motorcycle rides turn into sojourns through history. Coal miners forge fraternal bonds while awaiting rescue in shattered mines. Civil War soldiers grieve their war-torn families. "What I hope is that the songs are universal, that the feeling is in you," says Keith, leaning over her still untouched wonton soup. "I want the song to be totally real without making it about some exact person ... it's really about the feeling underneath," she says. But listening to the song "The First Lady of Rock," it's hard to shake the feeling that Keith isn't being at least a little autobiographical. Doug Tibbles came up with the title -- "I do the jokes, she does the poetry," he quips -- but Keith wrote the lyrics. She said, "I tried to be quiet, I really did. I studied hard - I was a good kid But there's something in my bones, something in my soul that makes me crank the distortion just as loud as it will go." She said, "I'm not after glory, I'm not after fame You might not even know my name I'm no rock giant, if you know what I mean I'm 5'6," I weigh 114." Keith grew up in Deerfield. Her father played piano and owned an enormous record collection that included everything from folk to big band. When Keith was in fourth grade at Deerfield Elementary School, her classroom teacher, Barbara Broadhurst, brought a Telecaster with her name on it in mother of pearl to class. She was Keith's first guitar teacher. "I learned everything I could put my hands on," says Keith, ticking off traditional ballads, early 1960s' folk classics, Buddy Holly, Hank Williams. "My guitar became my best friend. It went everywhere with me." In the mid-'60s, Keith took her guitar to Vassar College, and then to New York City. She played at the infamous Cafe Wha? in Greenwich Village and at the Fillmore East. She then headed to Los Angeles to shop her songs to major labels, finding a welcoming market. Her professional songwriting credits include songs covered by Olivia Newton-John and Barbra Streisand. In 1972, she recorded a solo album, "Barbara Keith," alongside notable studio musicians like Jim Gordon and Lowell George. It should have been an auspicious start to a long career as a singer/songwriter. And it might have been if it hadn't been for two things: Keith's sneaking suspicion that she still hadn't found her own sound, and her partner Doug Tibbles' decision to sit down behind a drum kit on a lark. Tibbles was an L.A. native and television writer whose credits included "The Munsters," "Bewitched" and "Andy Griffith." If Keith was in search of a certain sound, Tibbles was in search of a way to be creative without TVs' corporate pressure. The two were moving in the same entertainment business circles and gravitated toward each other like lone wolves in search of a pack. They co-wrote "A Stone's Throw Away," the closing tune on Keith's album. Tibbles was 37 when he started playing the drums. "All I had was a sense of time -- that was it. I hit the drum and Barbara started jumping up and down and I thought, oh no, I have to start playing the drums." "I heard the backbeat -- the real strong snare," says Keith. "I'd been waiting for it forever. It struck a chord and it reverberated immediately." That drum beat is the centerpiece of this oft-repeated story of how the Stone Coyotes got their start. It's a quasi-magical moment. Efforts to pry beyond it -- Tibbles had really never touched a drum before? -- are in vain. This is a band that likes to keep itself shrouded in a bit of mystery. Tibbles hit the snare. The rest is history. Keith returned her advance to the record company, Reprise shelved the album and Tibbles quit writing for television. The two headed back to their Los Angeles apartment to start over. "We lived a clearly renegade life," says Keith. She and Tibbles "woodshedded" -- an intense focus on practice. They didn't play out, they didn't produce CDs. They just concentrated on honing the stripped-down sound they wanted. Sometimes, recalls John -- who started playing bass at 11 and has never played with any other band -- his parents would load the drum set and guitar into a beat-up van and drive to a beachside parking lot in Santa Monica. They'd practice in the open air for hours. It was, he says, one of the few times he was embarrassed by them. "One time, one of my friends said, You know, I think I saw your parents playing in an old van the other day.' I said, No, I don't think that was them." "Now the truth can come out," Doug says. "He hates us." As the laughter fades, Barbara shakes her head. "But those old days ... it really paid off. Playing in a parking lot -- it does get your groove down." "That was it - we took a chance," says Doug in a tone that for a guy who spends part of lunch inventing palindromes -- Wonton? Not now -- is nearly reverential. "We've done nothing but take chances," says Barbara, to which John adds, "no plan, no safety net -- nothing." And for a moment, the three are silent. BUT THE SILENCE -- like the woodshedding -- ends. The band was always set on sharing the music. They just weren't going to rush into it. By the mid-1980s, Barbara had brought the family back to her native western Massachusetts. Their intense practice was yielding results. It wasn't perfect, but they liked what they were hearing. First as the Barbara Keith Band, then as the Coyotes, and finally as the Stone Coyotes, they began to play the occasional bar gig. They recorded some songs. In 1998, they released "Church of the Falling Rain," on their own Red Cat label. College and indie radio stations picked them up. Elmore Leonard heard them play during a trip back to L.A. Lots of people were hearing them. More CDs followed on Red Cat along with a steady schedule of live shows. The Stone Coyotes have ridden a slow-cresting wave of indie air play, exposure on the Internet and old-fashioned word of mouth. Now every year the Stone Coyotes travel up and down the East Coast, playing live in the major cities between Boston and Philadelphia. They head back to L.A. and play shows there. They do the rock festival circuit in Texas -- flying South each fall for gigs at the Cajun Catfish Festival and other shows. They have homes in Greenfield -- Doug and Barbara in one, John in a place he just bought -- as well as in Texas. They maintain a steady diet of Valley shows -- their next gig is New Year's Eve at Pearl Street in Northampton -- keeping their live chops sharp and trying out new songs. They write new tunes, answer emails, update their Web site, fill orders for T-shirts and hats and CDs. "Sometimes you think: Maybe [we want] just a calm normal life where everything is predictable," says Keith. "But then there's something that keeps you on this path that's a reward in itself. You can't stop. You see glimmers of that resounding in the people who discover us that we were right to go on." "We're kind of plain folk," agrees Doug. "We're not highfalutin' -- we just want enough money to keep doing what we're doing. If the songs didn't excite us or didn't excite the audience -- we would quit. You can't kid yourselves." BACK AT THE IRON HORSE show, the Stone Coyotes power through a greatest-hits-and-some-that-will-be song list. They do "Odessa" -- a languid country rocker Keith wrote for Leonard's "Be Cool." They do "Party Down the Hall," another tune off their latest CD, which features a cast of characters that might have stumbled out of a Bob Dylan number circa "Highway 61 Revisited." A girl walked by dressed as a ghost I guess it's a costume ball A man came as a pirate It might not be a costume at all Keith plays her Gibson SG -- Angus Young's guitar of choice -- which is a break from her usual diet of B.C. Rich six-strings. The B.C. Rich guitars, she says, "are perfect when I want to heavy metal out." As the clock closes in on midnight, the band can't contain its obvious pleasure. Doug Tibbles throws an extra roll in at the song's end. Keith takes a longer solo. They smile at one another, as if to say, Isn't this a blast? For a couple who turned their backs 30-some years ago on what most people would have considered pinnacles of success, this has to feel good. The Iron Horse show ends on a familiar note -- "Rock Harder Than You" off 2003's "Rise From the Ashes" CD. It's Keith at her angriest and the band at its tightest. Keith tosses off solos, her fingers dancing high up on the fretboard. John lays out complicated bass rhythms that mesh neatly with his father's spare, in-the-pocket drumming. The audience -- most of them looking more tired than the band -- feed on the band's energy, and the band feeds on theirs. During lunch at China Gourmet, Keith had said that playing rock'n'roll was a dream come true -- for her and her husband and son. Their recipe for success, she added, was simple. "The one thing you can't do is take yourself too seriously. You can take your art seriously and your music seriously but you should have a light heart." It's an interesting counterpoint to Keith at the Iron Horse, half-shouting, half-snarling the chorus to "Rock Harder Than You:" No matter where you go No matter what you do I'll make it a point To rock harder than you It's a battle cry, both promise and challenge. Keith and the Stone Coyotes are still following the reverberations of Tibbles' tap on that snare so many years ago. Tonight, at the Iron Horse, the band members remind themselves -- and their fans -- just how seriously they take these songs. But when the song ends, Keith is once again courteous and kind, the hippest mom you know. Doug is getting "Dreams of Glory" CDs out for fans already lining up with money in hand. Someone has pulled John off the stage for a hug. "Thank you," says Keith, waving a last time to the shell-shocked but gratified audience. "It was so nice to be here tonight."
The Brattleboro Reformer
Thursday, May 15 - Arts, Brattleboro Reformer, VT "The beat's got a hold on me/Yes, I hear a symphony/Down through history/Everywhere I go on the radio/They say 'the beat's got a hold on me.'" -- Barbara Keith on The Stone Coyotes' "VIII" NORTHAMPTON, Mass. The beat continues to keep its hold on Barbara Keith, The Stone Coyotes' singer/songwriter/guitarist/ultra-cool-mama, who has been making records since1969 and preaching the gospel of grown-up rock to an ever-expanding choir since forming the Stone Coyotes with her hubby/drummer Doug Tibbles and bassist/stepson John Tibbles in the early '80s. The trio, which will be appearing at The Iron Horse on Saturday, just released "Vlll," another stellar record that builds upon the Coyotes' alluring blend of ACDC roar and reverent roots-rock. In a Mother's Day interview, Keith laid out the band's mission. "We are servants of music and happy to be conduits of its power. ... Whether it's a turn of phrase or a thrilling sense of cohesion when we attack a song, we are always aware of tapping into a force -- we just hang on for dear life and play every show and make every record as if it was our last." Judging by the sonic power and the lyrical potency of "Vlll," it is sure not to be remotely their last. According to Keith, the band put a little extra time in to this recording. "We took a little longer to put this one out. ... Decided not to go to Texas last fall so we could really concentrate on getting this album the way we wanted it." The band spent all of this past winter down in its basement studio in Greenfield, Mass, tinkering with tracks for "Vlll." "Some of the songs on this album were laid down without being really written yet," explained Keith. "They were grooves or 'almost songs' ... so in a few cases lyrics followed later." The finished product includes some of the band's best recordings to date, including the anthemic "The Beat's Got A Hold On Me," which is sure to become a staple of the group's vibrant shows. "It's one of my favorites," said Keith. "Layering all the voices was fun. ... Always wanted to do a Freddy Mercury approach -- and then have a big drum. That was one of the 'jams' I mentioned before. ... We just started the groove and I hit the record button." The are many more references beyond Queen on the new record -- "Brand New Car" includes several historical auto-rock allusions, including Wilson Pickett's "Mustang Sally," "The Beach Boys," "Little Deuce Coupe" and the "Little Red Corvette" driven by Prince. For the more literate listeners, "The Grey Robe of The Rain" borrows from Henry Wadsworth Longfellow and Keith adds a dramatic reading of Merle Haggard's "Kern River," the record's only cover. "We heard Merle play it live with just an acoustic guitar on a country talk show a long time ago ... and never forgot it," recalled Keith. "Loved the lyrics. We have the single he made of it but we actually liked the raw version we heard on TV better." The CD "Vlll" is much more than Keith with her family support. Doug Tibbles, whose previous vocation was a TV sitcom writer, co-wrote four of the tracks (including the playful "Trouble Down In Texas"), as well as creating the album's alluring artwork, while son John occasionally put down his thundering bass to add some of the tasty guitar runs. "Yes, Doug and I collaborated on some of them" said Keith. "He made up 'Trouble Down in Texas.' He says he comes up with the 'jokier' ideas. His comedy background showing itself in a new form ... but that's not strictly true. ... We also co-wrote some of our more serious songs like 'Ghost of Vicksburg' and 'Death of the American Song,' too. John has been stepping in with some lead guitar on the last few albums. ... Sometimes we share a lead break -- I start out with the easy part and then he sails in with the accomplished licks." The Stone Coyotes, who enjoy a fervent following in Texas and are a fixture on XM Radio, have always been musical omnivores, chewing up country, blues, folk and pop and spitting out their distinctively smart brand of riff-rock. "We have no compass, no chart and we have to go on our hunches, our taste, and our loyalty to this strange art form," said Keith. When asked what the Coyotes still wish to accomplish, Keith got positively Shakespearean. "Dig deeper, fly higher, practice harder to express the most feeling we can before we 'shuffle off this mortal coil.' That's our job."

Church of the Falling Rain:

…This is the first outing from The Stone Coyotes, and it's been a long time coming to me, and worth every moment I've waited. It's a dynamic dimension of brilliantly layered rock set to haunting stories of ghosts, guns, suggested murder, voices in the night, and adventures of unspeakable delight. Barbara Keith doesn't so much sing her songs, as she preaches them, turning your face to the light, waking you up, and showing you things you've only dreamed about. Her voice is strong and clear, able to set the house on fire, and then in the next moment she can be so loving and tender, just listen to "Folded Wings," and tell me this isn't one of the best alternative country songs you've ever heard in your life ... leaving you to wonder why this band has been overlooked for their entire career.

Situation Out of Control:

This was the second adventure for Barbara and her band of out of control Coyotes. Of course by now, everyone knows most of the backstory, and the fact that Barbara's been rocking since the late 60's, and is still blistering those guitar strings like she was twenty.

As with all of their albums, the tracks bounce back and forth between relentless hard edged rock, and power chords, all laced with dynamic haunting sophisticated lyrics that have you diving back into their dark waters over and over again. Her vocals are like nothing you've ever heard before, and if I may venture so far over the cliff, she can put Robert Plant to shame, even as she twirls on stage with a floor length coat held in place by her guitar strap. I don't believe there are any albums by the band where they don't cover at least one track, and their take on "Season Of The Witch," will knock you over and have you begging for more.

Born To Howl:

So you find yourself strangely drawn to AC/DC, Motor Head, and Deep Purple ... but you think you're just a bit too sophisticated for those guys. Well then please ... step into my room and allow me to unleash 'Born To Howl' on you. This is heavy groove laden rock that dances on the edges of alternative country, with a female vocalist, who will tear out your heart and bend your mind in the same way The Rolling Stones did on 'Sticky Fingers.' ..

'Born To Howl' is raw, elegant, and powerful, but when the haunting song "Four Times Gone" slides into gear, you'll know that you've time slipped to another dimension for sure, just before the dawn, when rock was pure ...

Rise From the Ashes:

Barbara Keith can turn a pictorial phrase like so few artists walking the planet, and it's sad that nearly no one as heard them. "Your Hour To Sing" gives me the same shivers I had while listening to Dylan's "Visions of Johanna" for the first time ... Most of the rest of the album is a blistering fist pounding relentless anthem of simple considered rock n' roll that once under your skin completely takes over your being. And as good as those songs are, it's these haunting hypnotic dreamlike melodies that weave though all of the Coyotes' releases that swamp my head, and leave me wasted in the afternoon sun, endlessly hitting the repeat button.

Fire It Up

Fire It Up rips through my speakers with an unqualified energy, as all Stone Coyote albums do. And as on all of their releases, there are a couple of standout tracks, tracks that are so sensationally original, and beholding to no one, that they're sure to go down in musical history as some of the best laid back, haunting, ride you into the setting sun with home just an endless few more miles down a dusty road adventure. "All Dressed Up," and "Dance Band" are songs you'll wanna keep in your pockets like so much loose change, tossing them across the bar like lightening, and firing up any sleepy roadhouse that needs a kick in the shins…

Dreams of Glory:

"Party Down The Hall" is reason enough to score this album from The Stone Coyotes, proving that the cream eventually does rise to the top. This is the music Bob Dylan would have ended up making had he never taken off his electric guitar and walked the streets with John Wesley Harding.
Dreams Of Glory is a stunningly haunting album, with alternative country vibs, mixed with muffled psychedelia, spinning round and round, slowly layering and building fuzz guitar on a bottom that just won't quit, and just rough enough around the edges to hold your attention from the first track to the last.

I'd always thought there wasn't anyone much better than Lucinda Williams, but Barbara Keith has passed her by like Lucinda was standing still, yet managing not be be self indulgent and overbearing. Barbara and her husband tired of the entertainment scene in Los Angeles, returned their record company's advance, and moved to Massachusetts, where they started Red Cat Records in the basement of their home, so they could do it their way, without the interruptions. They've been playing clubs since the 70's, but it wasn't until the late 90's that they released their first album ... and since then, this prolific band has managed to knock out ten others while relentlessly touring. Though the band presents simple honest music that is pure American Jukebox, the music is far from simplistic ... rolling with a rooted forceful backbeat, and solid bass lines all balanced by the robust rhythm guitar chords of Barbara Keith. The album has been well thought out and produced, harking back to times when the music was balanced, where slower songs slid in just when you needed them, giving you room to breath, before taking you higher.

This album is worth your time ... and The Stone Coyotes are more than worth seeing live, they'll restore your faith in rock n' roll as they dig up the ghosts and dance with rockers long passed.

VIII:
…Take Punk, ratchet it up thirty points on the intelligence scale, find a woman who can sing and play guitar with the feel of old time rock and roll, mix that with some alternative country vibes, blend in some down home stories, and you have The Stone Coyotes…
…Songs like "Land Of The Living" are equal to anything The Rolling Stones ever laid down, slashing like a silver edged razor to open a too long healed wound. The songs are long enough to hold you attention, and just short enough to make you wish for more.

I Couldn't Find You:

The band rips me to the heart every time I drop the disc into the tray ... they make me wanna.. flick my knife, kick dirt balls, dance in the grocery store isles, throw money into the wind, and start my car with the accelerator pressed to the floorboard.

Can anyone suggest a stereo with a volume control that knows no limits?