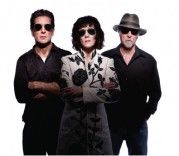 photo by David Turner
WE HAVE SAD NEWS: OUR BELOVED DOUG TIBBLES HAS DIED. HE FOUGHT HIS LAST BATTLES THE WAY HE PLAYED THE DRUMS, FIERCE AND STRONG. PLAY SOME STONE COYOTES AND REMEMBER THIS GREAT MAN.
**************************************************
Older news:
Facebook has shut us out of our band page. We didn't link it to a real person admin back in 2012 and now FB will not allow us to log in and fix it. Apparently, at least for now, you can can still see it, comment, etc. but we will not be able to reply, post, or read messages.
We may start a new page and will update that info here.
What a pain!
    The Stone Coyotes, previously a staple on XM's XCountry and Deep Tracks channels, are being re-discovered on SiriusXM. Bernie Taupin plays the band's music on his "American Roots Radio" show on The Loft Channel and Jim Ladd on his "Free Form" show on the Deep Tracks Channel.
The band's music is now on AMI Digital Jukeboxes! For links, go to Links page.
You can also find The Stone Coyotes' music on PANDORA and JANGO.
Rayko edit of Barbara's version of Dylan's "All Along the Watchtower" has over 600,000 plays on Soundcloud. See Links page. 
Barbara's 1972 Warner Brothers album is being re-released on vinyl by Mapache Records. A review by Bud Scoppa is featured in the July issue of Uncut Magazine in the UK. To read it, go to our Links page.
Please do not buy our music from Payplay.fm. We have not been paid for any downloads from their site and they are no longer associated with CDBaby. Thanks.
SOUND CLIPS AND LYRICS NOW ALL ON MUSIC/DIGITAL SALES PAGE.
Videos: "Plain American Girl", "My Little Runaway" shot/edited by Marc Moorash, "Detroit or Buffalo" by Wally Jameson,"Rock It" by Kenyon King,  "A Wild Bird Flying" by The Stone Coyotes.